Our Approach
SAVE was established by Dr. Lyssa Ochoa, Board Certified Vascular Surgeon, to serve the need for compassionate, personalized, advanced vascular care to the growing population of San Antonio.  As a city with a growing diabetic population that is twice that of any other large city in the nation, San Antonio needs tailored medical treatment to patients with complex medical conditions.  SAVE works with primary care physicians, specialists, along with community resources to create individualized treatment plans.  By combining lifestyle change education, optimal medical management, and tailored advanced vascular and endovascular techniques, SAVE strives to provide early diagnosis of vascular disease, prevent its progression, and offer state of the art interventions when needed.  Close patient follow-up and continued education on vascular disease will further serve SAVE's goals in returning patients to their optimal health.
Mission
It is our mission to provide quality care to the entire vascular patient by challenging every member of our organization to make a positive difference in the lives of our patients.
Vision
We will become the nationwide model for measurable quality and cost-effective delivery of care for vascular patients.
Values
We must all have a sincere COMPASSION for those we SERVE and maintain the highest levels of RESPECT and TRUST among each other in order to achieve the EXCELLENCE we demand of ourselves.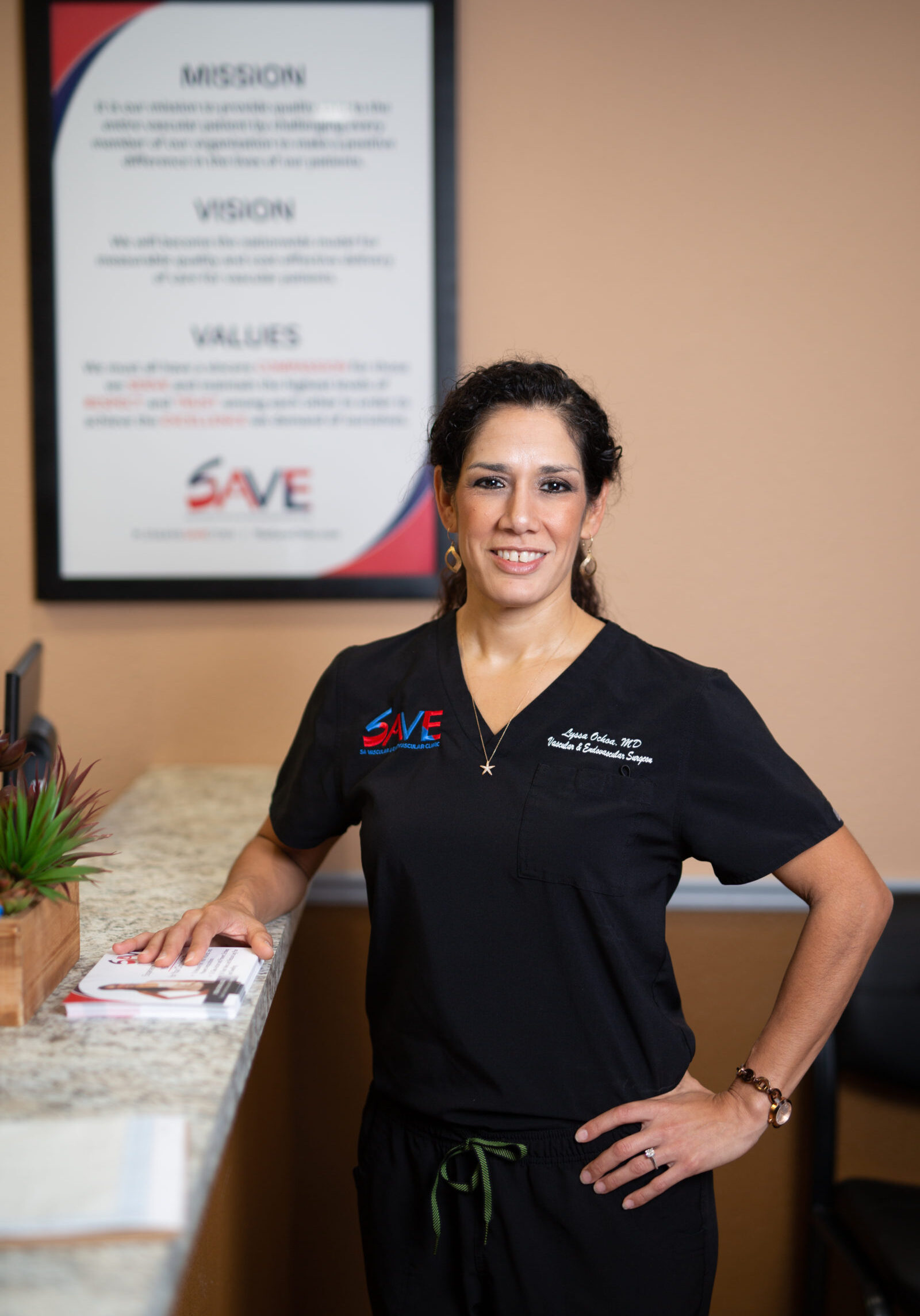 Lyssa Ochoa, M.D.
CEO and President 
Dr. Lyssa Ochoa is a board-certified vascular surgeon and founder of the San Antonio Vascular and Endovascular Clinic (The SAVE Clinic) in South San Antonio. She was born and raised along the Texas-Mexico border and attended medical school, general surgery residency, and vascular surgery residency at Baylor College of Medicine in Houston, TX. She has been practicing vascular surgery in San Antonio since 2011 when she quickly recognized that the number of diabetes-related amputations in San Antonio occur in rates up to 3 times the statewide rate in some of the city's most underserved and socioeconomically challenged zip codes. Understanding that collaboration is key to change health outcomes, Dr. Ochoa has partnered with hospitals, managed care organizations, universities, non-profit organizations, local school districts, city council districts, and clinicians of all kinds to develop amputation prevention programs, awareness platforms, and additional resources. Dr. Ochoa regularly speaks at community engagement seminars, lectures to medical residents at the UIW School of Medicine, and raises awareness in media such as Texas Public Radio, various news outlets, and newspapers, as well as champions for equitable access to healthcare through engagement with city and state elected officials.
Thomas Gianis, M.D.
Joined in August of 2021
Dr. Thomas Gianis is a board-certified general surgeon and board-eligible vascular surgeon who will be joining The San Antonio Vascular and Endovascular Clinic (The SAVE Clinic) in August. He was born and raised in Summit, New Jersey. Dr. Gianis graduated with a Bachelor of Engineering in Biomedical Engineering from Vanderbilt University in 2008. In 2013, he graduated from Ross University School of Medicine as a Doctor of Medicine. He went back to Vanderbilt University for his general surgery internship from 2013 to 2014. He then went on to complete his residency in 2019 from Memorial University Medical Center in Savannah, GA. Lastly, his Vascular and Endovascular Fellowship was completed at the University of Virginia in 2021 before joining The SAVE Clinic. Dr. Gianis is a member of Alpha Omega Alpha (AOA).
His hobbies include fishing, golfing, snowboarding, and spending time with his wife and children.
Monica Kincade, APRN
      Nurse Practitioner  
Joined The SAVE Clinic in 2018
Monica received her Bachelor and Master's of Science and Nursing here in San Antonio at UTHSC in 2009. She then went to University of Texas at Arlington in 2019 to receive her Nurse Practitioner Degree. With over 25 years of vascular experience, she assists SAVE in seeing patients in clinic.
Effective 9/2/2022, Dr Amber Ritenour, MD, is no longer seeing patient with The SAVE Clinic. Patients may continue to see Dr Lyssa Ochoa and/or Dr Thomas Gianis with SAVE.
Patients and Family
Do you or someone you know have peripheral arterial disease? Would you like more information or to schedule an appointment? Use this secure form to contact us and we'll get back to you at your convenience.